So I came into the offfice today and was greeted with this:

The Scoutmob link led to a 50% off deal at Cypress Street Pint & Plate, a place I go to often for lunch and after work to meet with people about startup related activities.  Like the place a lot. Even pointed the JungleDisk folks there for their recent Startup Tweetup Atlanta.  So I replied: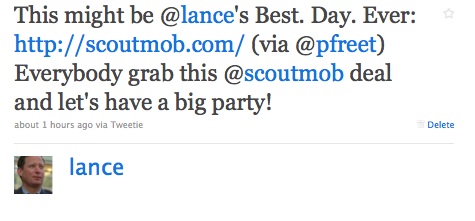 Which led to the question:


To which I messaged:

So go grab that Scoutmob Cypress Street deal and let's get together on April 1 to welcome in spring.  It should be a great night for good food, good friends, and good beer on the patio by the fire.