So I was doing some work on the atdc Startup Showcase that resulted in a quick brainstorming session on Atlanta area organizations that fund technology startups. It looked something like this.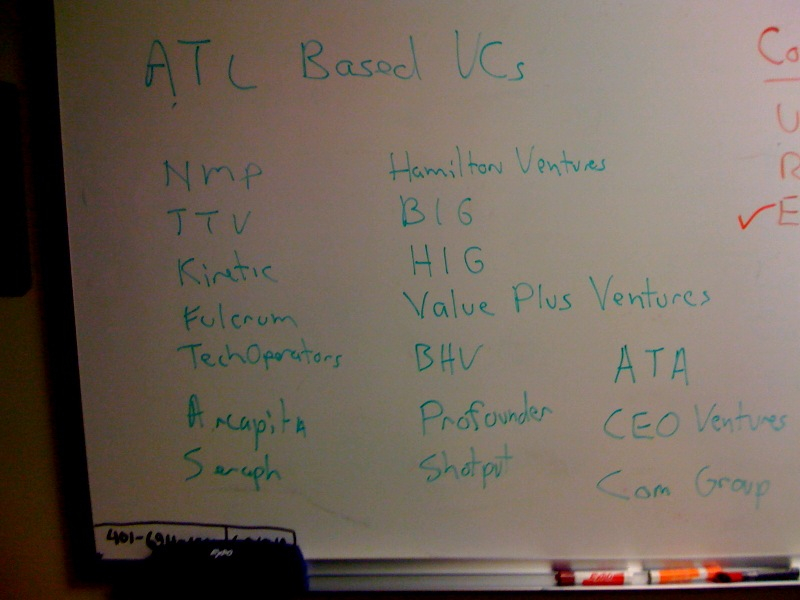 The venture capital firms are Arcapita, BLH Ventures, Buckhead Investment Group, Fulcrum, H.I.G., Kinetic, Noro Moseley, Total Technology Ventures, TechOperators, and Value Plus Ventures. The more angel oriented investor groups include Atlanta Technology Angels, CEO Ventures, the Communications Group, Hamilton Ventures, Profounder, Seraph Group, and Shotput Ventures.
Though they are no longer actively investing in new deals there is of course Imlay Investments. You can add the ATDC Seed Fund and the Georgia Tech Edison Fund to the list as well. There is a total of 20 investment entities . Of the 20 at least 13 are active, having done at least one deal in the past year.
While we can use more this is Atlanta in 2011. It would behoove any entrepreneur that thinks external funding is in their future to do their homework and get to know these firms better.
Update: I was reminded that I omitted Paparelli Ventures.