I have this theory.  It's most likely not going to be real popular.  But I have this theory.  It's a theory about how social media marketing is going to evolve. The theory goes a little bit like this.
Social media is small part of the interactive marketing pie.  It's growing fast.  But right now it is small.  In it's infancy even.  A mere $700 million sliver of a $25 billion dollar pie.  If you go back and look at Internet ad spending history the entire category was $600 million in 1997.  In terms of social media spend it is 1997.
Think about 1997 and interactive marketing.  DoubleClick was hot.  Yahoo! was hot.  Pointcast was hot.  So hot that News Corp offered $450 million to buy them. 
Google was just a sparkle in Larry's and Sergey's eyes.  That $600 in
revenue was nearly all being spent on interactive display advertising.  Advertising that was chasing online eyeballs.  Social media marketing is a lot like interactive marketing in 1997 from a market development point of view as well.  Conversations, engagement, followers, and fans are the eyeballs of yesteryear.
Take a gander at Forrester's interactive advertising spend projections below.  Notice anything interesting about it?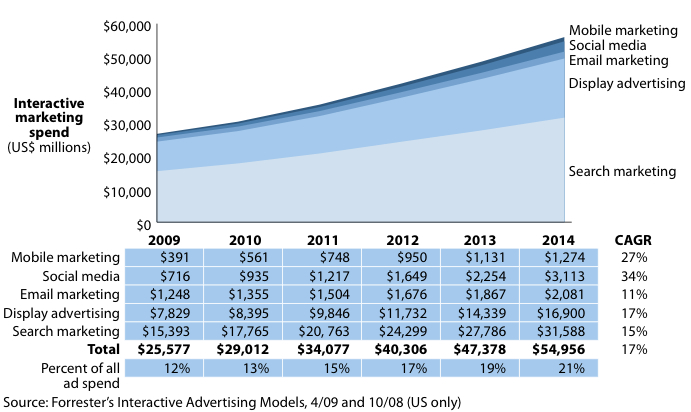 I do. 
Look at the more mature categories of email marketing, display advertising, and search marketing.  It's obvious that search marketing dominates.  It dominates because of its direct response nature.  What might not be quite so obvious, because you need to dig a little deeper into the underlying numbers, is that a steady state of 70% of interactive marketing spending is being used for direct marketing activities. 
My theory on social media marketing is that it is going to mature to a state very similar to other online marketing categories.  Most of the growth projected for the social media category is going to be spent on direct response marketing activities.  The entire reason interactive marketing has grown is it is more measurable, less expensive, and more revenue focused than traditional media.  If CMOs are going to shift their budgets into social they are going to demand the same type of performance.
It's really no surprise that marketers want to invest in activities that are both efficient and measurable.  But there is another side of the coin, the side of the social media user.  The common wisdom is that social media users don't want to be sold, they want deeper engagement.  But no one wants to "be sold" in any medium from mass market advertising to one on one sales.  People want to buy.
Regardless, eMarketer recently highlighted a study by Marketing Sherpa that addressed this issue.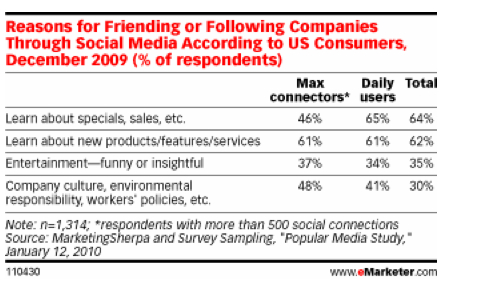 Why many users are indeed interested in deeper engagement, the number one motivation why users followed/friended companies was to learn about specials and sales. This supported an earlier study by Razorfish.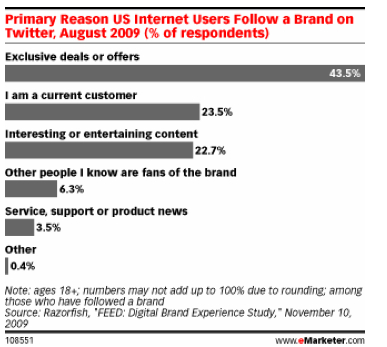 Social media users want deals.  If marketers are going to be successful they are going to have to give them deals.

Based on their behavior interactive marketers want efficient measurable revenue focused opportunities.  Social media users want deals.  But them together and you have social media looking a lot like other more mature interactive marketing mediums.  Or so my theory goes.  But is it just a theory. 
Very interested in what the smart marketers and social media users that comprise the readership of FoG have to say about the matter.