Rapleaf is one of the companies involved with the latest Facebook privacy snafu. The company, an online data gathering firm of sorts, was linking specific Facebook user information that it obtained from Farmville, Texas HoldEm Poker, and the like to its own database of Internet users. Rapleaf also transmitted the Facebook IDs to about a dozen other firms according to the Wall Street Journal.
The Journal has been on a bit of a rampage against Rapleaf as part of the "What They Know" investigative series. Yesterday Emily Steel profiled 67 year old Linda Twombly who was quoted as saying "It is like a watchdog is watching me, and it is not good" when informed about her Rapleaf profile. That resulted in thousands of users deleting their Rapleaf profiles. 
The reaction from people when they learn about digital marketing is very bi-polar. The shock of Ms. Twombly on one end and the so what of the sophisticated Internet crowd on the other.  So what exactly is Rapleaf collecting and sharing?
Well a user can go to Rapleaf, register an account then see and manage their info. Here is what it shows for me with some commentary. The most notable aspect is that the data it is not that detailed and not that accurate.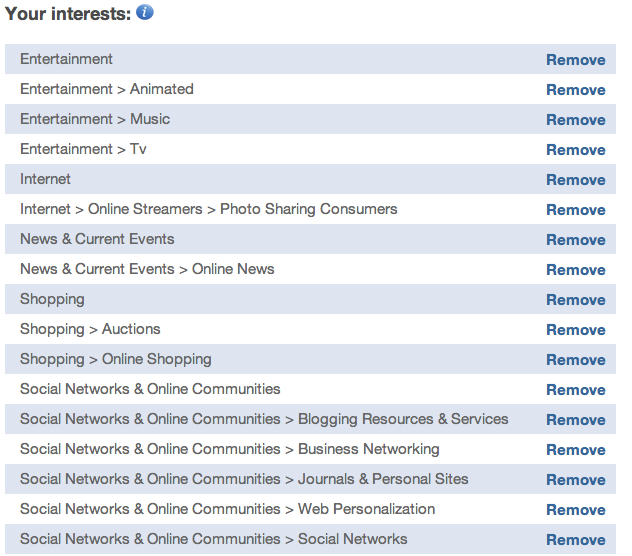 Nothing really that telling. I am a bit surprised with displayed interest in animation and television. I hardly watch anything on TV that is not HBO and does not end with a score. Which makes me surprised there is no reference to sports.  

Pretty basic stuff. The age, sex, location, and marital status information is correct. I have two children and the income is off by a significant factor.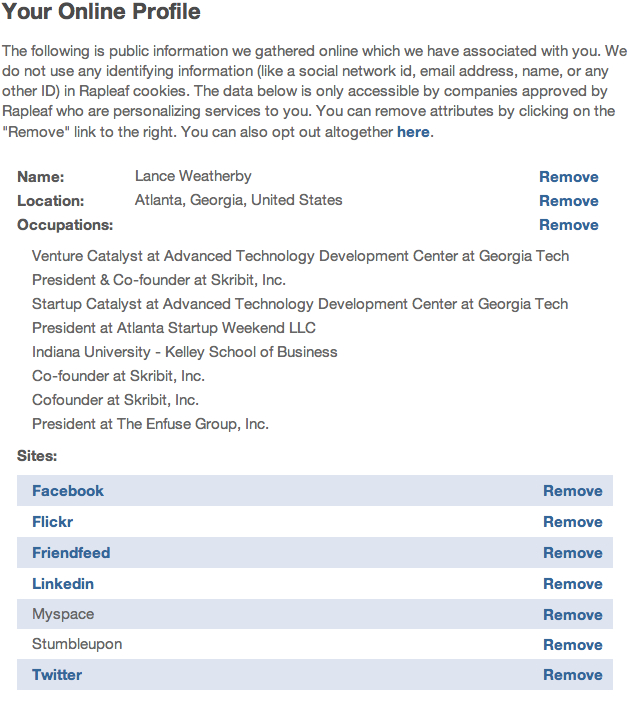 Rapleaf seems a little consfused about where I have been working. Duplicates of some job activities. Some occupational information is missing. The social networks are dead on. Interesting that they do not have my blog info.
So while I really do not care so much for Rapleaf and dozens of other companies monitoring my activity every time I visit a web site this information seems both inaccurate and harmless to me. If you feel differently you can always go opt out. But to me sharing personal information with marketers that allows for free Internet applications and may one day result in a more personalized online experience is a tradeoff I am willing to make.