Given the wording of Georgia amendment one there was never any question in my mind that it would pass. But some of the statements made in the Jobs of Tomorrow funded robo-call sent me a little over the top and set VoteNoOn1 in motion. When I do something I like to measure. It's interesting to see exactly what impact the effort had.
Let's start here at FoG. As the below graph shows, traffic skyrocketed.  Up 480% week over week. New visitors were up over 21% to 81% of site traffic.  That equates to over 3,200 people that had never been to FoG visiting the site and reading vote no content.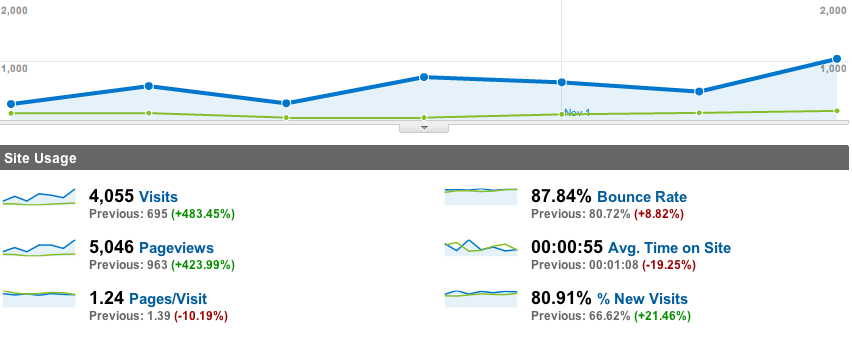 What was driving this traffic? Google. FoG was (and remains) a top search engine result page (SERP) on at least 30 terms. Here are the top ten that drove the most traffic:
georgia amendment 1
georgia amendment one
amendment 1 georgia
amendment one georgia
georgia amendments 2010
vote no amendment one georgia
2010 georgia amendments comparison
who should i vote for in georgia 2010
amendment 1 georgia
how to vote on georgia amendments
The activity quickly moved from FoG to social networks. An avatar and Facebook page were put together in short order. The Facebook page garnered nearly 1,300 active users in less than a week.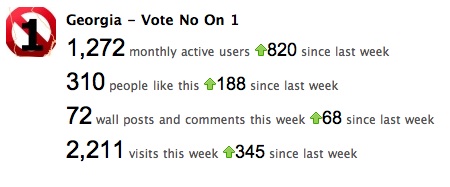 On Twitter hashtag VoteNoOn1 became a bit of a rallying cry.  A nice Twibbon was made. The Friday morning after my initial article the term starting trending in Atlanta. According to Socialytics before all was said and done vote no had been tweeted 983 times by 303 distinct people. And while at times it sounded a bit like an echo chamber the VoteNoOn1 effort made over 225,000 impressions and reached over 160,000 unique individuals.
All this is great stuff but the creme de la creme emerged from one of the team on Sunday before the election, "Biggest impact we could have now would be to get someone to call in to Neil Boortz's show tomorrow and get access to his audience." The game was on. A bunch of people made it their business to achieve this goal.
At about 9:15 on the Monday before the election they did so. Neal Boortz said on-air ""The wording on the ballot in Georgia is designed to intentionally mislead you. Vote No." Boortz the 13th most important radio talk show hosts in America, said "Vote No." Boortz whose weekly cume, a measure of the total number of unique listeners over a period, exceeds 6 million people, said "Vote No."
The day before the election I estimated that amendment one would pass with 73% yes votes. The tally ended up being 68% yes. I'll take that 5% difference and further estimate that VoteNoOn1 swung 120,000 voters to the no side. Not bad for a unstructured group of less than 20 people working for four days. This small quick effort has been referred to as "a large Vote No campaign."
Large? I don't think so. Not yet.