Yesterday I wrote an article about deals not being evil in response to a series of articles that are appearing on TechCrunch. At about the same time the Wall Street Journal published an article entitled Daily Deals Rescue Local-Ad Market that was a bit more balanced then the stories coming out of TechCruch. It includes a great chart that shows the fall of newpaper and yellow pages spend and the growth of digital and deals. Merchants are shifting their marketing spend.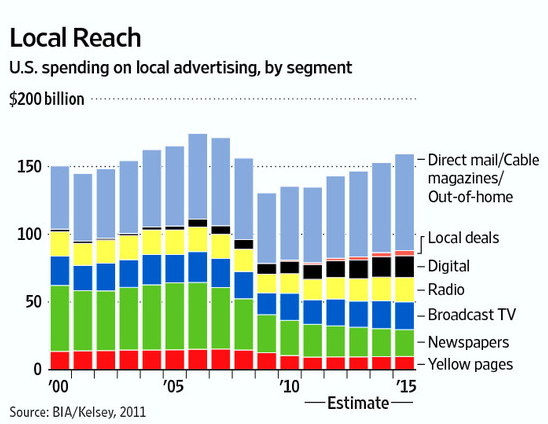 They are doing this because digital and deals are effective. 
Money quote.
Rodney Fong, president of San Francisco's Wax Museum at Fisherman's Wharf, for one, is a convert to the daily-deals model. Just three years ago, he said the museum spent a quarter of its marketing budget on newspaper ads. Now it spends almost nothing on print ads, shifting its focus to daily-deal sites. "I'm sold on it," Mr. Fong said.