The concept of a Chief Marketing Technologist has been around for some time, I first wrote of the concept over three years ago. It picked up steam big time when Gartner declared that by 2017 CMOs would spend more on technology than CIOs.  Today nearly 70% of large marketers have a CMT. Begs the question, what exactly does a CMT do? The Harvard Business Review has the answer in an article entitled "The Rise of the Chief Marketing Technologist." It is summed up in the lower right of this infographic.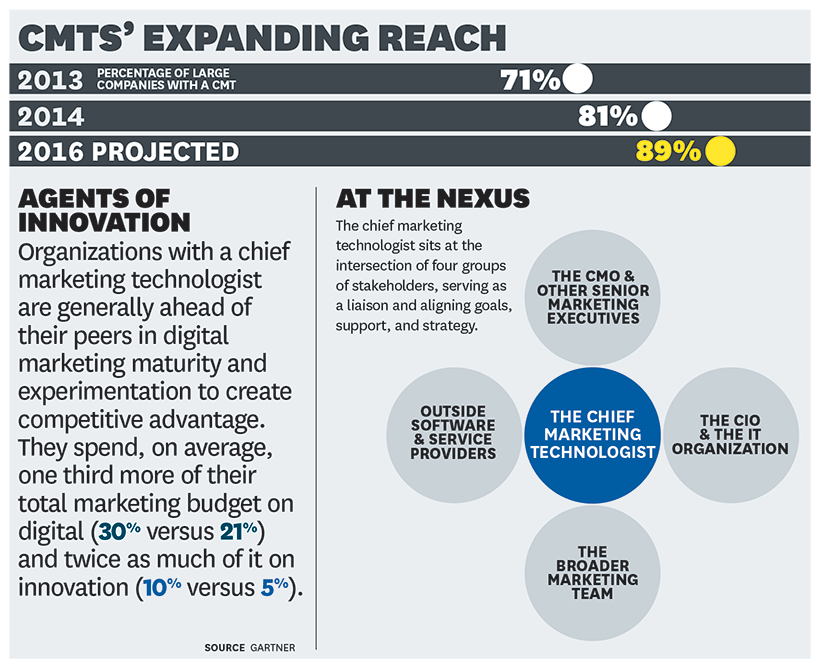 The CMT sits at the intersection of the senior marketing team, the broader marketing team, the CIO, and outside technology providers. They support marketing strategy by making sure the company has the technical capabilities it needs to effectively market and work with the broader technical organization to translate marketing requirements while keep marketing technology decisions inline with broad IT strategies and policies. Scott Brinker, one of the co-authors of the HBR article, also is the editor of the ChiefMarTec blog. Scott recently published a survey of CMT salaries.  Looks like it is a good gig if you can get it.

And that not be such a hard thing to do if you have the right background. The survey results also said that CMT is presently the most in demand position for executive marketing placements.