About a year ago I postulated that social media marketing was going to become a much more direct response medium. That social would only grow to become as large a part of the marketing mix if CMOs could get the same type of performance that they could get from interactive in general. Social needs to be measurable, less expensive, and generate revenue.
Well Bazaarvoice and The CMO Club recently surveyed 175 CMOs on their social marketing plans for 2011 (you can get the entire the survey here). eMarketer repurposed the results a bit and noted the a "dramatic difference in the approach to social media metrics." They summarized the results of the Bazaarvoice study in the table below.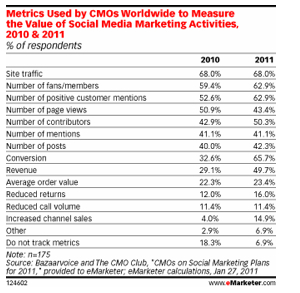 While it does not immediately jump out, the big big difference is both conversion and revenue are becoming more important metrics. Conversion jumps from being the 8th most important metric being looked at to measure social media to the 2nd most important and revenue from 9th to 6th. Conversion is ahead of fans and followers as a metric. 
Social media marketing measurement is moving toward the bottom line. It is a trend that will continue beyond 2011.